Our Girl Scout Cookie CBD oil has a sweet and minty taste, with just a hint of chocolate and 0% THC.

Our Girl Scout Cookie tincture comes in two strengths of CBD concentration, 500 mg and 1000 mg. Higher Love Wellness broad spectrum CBD oil contains .0% THC and is CO2 extracted from organic hemp grown locally here in Colorado.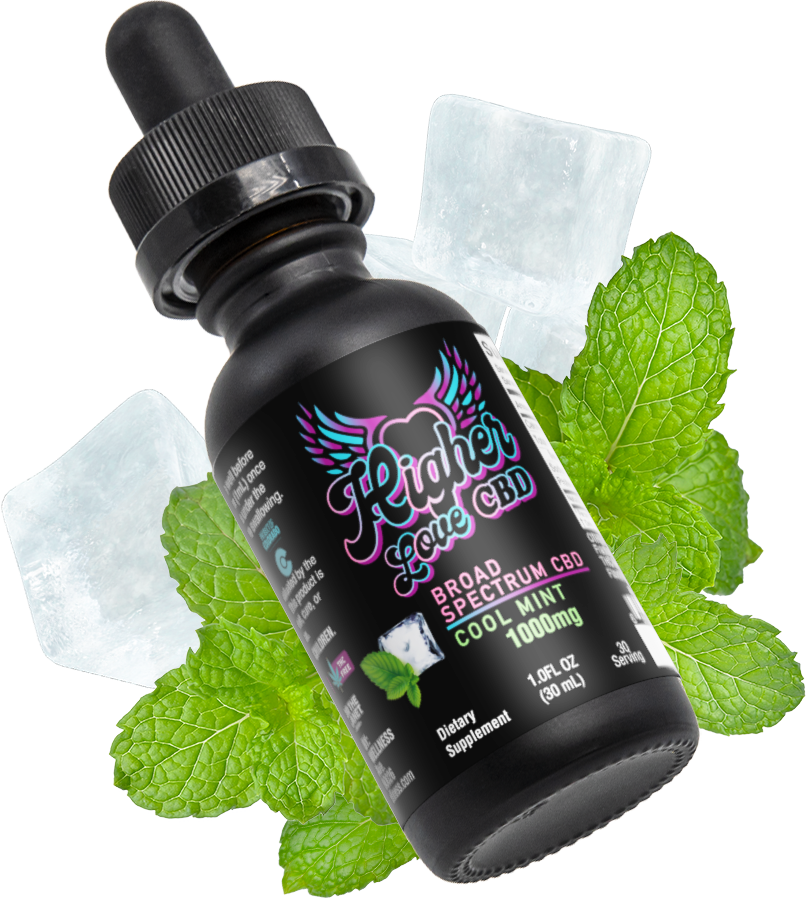 Welcome our newest fresh flavor of broad spectrum oil to the family; Cool Mint CBD Oil! Created with winter in mind and as always, made with locally grown Colorado hemp, our newest oil is refreshing and bright.
Formulated with our classic 20:1 CBD/CBG ratio to maximize benefits, you'll enjoy everything about this oil. Flavored with all natural, organic mint and third party tested for potency, you'll love the cool blast of mint and the benefits that follow.
I've been wanting to try CBD oil for a while now and I didn't know where to start. Luckily you guys dropped this at the right time. I love it so far. Thank you guys.
This is the best tasting CBD I have ever tried. I take CBD at night to relax myself and get good sleep. This stuff works great! Love it
I've tried other cbd products from other companies. This is the first oil I've tried. I was so surprised with how much I love this cbd oil. It was no where near as thick as I was expecting it to be. The flavor is so subtle but it tastes amazing. For me, I started feeling the effects within 20-30 minutes of taking only .5mL. It relaxed my body and helped with my horrendous menstrual cramps that not even most medication can help relieve. I will be ordering more of this and other products. Thank you for putting your time and love into this product and company!
Thank you for creating such a well crafted product. It tastes better than any other CBD oil we have tried. It tastes like a lifesaver. I appreciate the care it took to make this product. I look forward to trying more of your products.
These gummies taste so good! Its like eating candy. They don't have the harsh after taste that many other cbd gummies have.
Amazing flavor! I was blown away by how good they were. Very fruity and you can tell they are high quality.
The times I've tried CBD in the past, I've often been unsure of whether it was actually helping or if it was just placebo. This product absolutely works, and it works well. I usually struggle with sleeping — either can't sleep or I'll wake up a lot throughout the night, but ALWAYS with a ton of anxiety keeping me up before bed — but after using this I slept like a baby until my morning alarm. I actually fell asleep so quickly and soundly that I completely forgot to charge my phone and laptop that that were in bed with me (I'm a virgo, so I absolutely never do that). I love it.
Omg! It's been 5 years since I've smoked/had thc due to the way it counteracts with my schizoaffective disorder. I miss it in a lot of ways. This gives me all the benefits without the psychoactive properties that mess with my disorder. Love the taste and that I can finally hit a rig again! Thanks guys! I'm writing this after my first hit and I already feel the relaxing benefits.
Such a great product! Helped eased my anxiety and insomnia almost instantly. 12636/10
I absolutely LOVE this wax. I suffer from anxiety and chronic pain (migraines more specifically) and I just used this last night and it is a COMPLETE GAME CHANGER. I can already tell concentrates and waxes are going to be my new fave for consuming CBD. And the flavor? Amazing. Absolutely amazing. For sure will make another purchase of this wax, and hopefully more flavors in the future!